ProLoft 600
The CCS ProLoft 600 is our mid level system, the system is able to produce up to 600 pounds per hour at 100% run time. The system is designed to open polyester fiber and fill different types of furniture and bedding products. This includes but is not limited to bed pillows, decorative pillows, bed rests, neck rolls, pet beds, furniture backs and cushions, outdoor furniture and much more. The system is compact, user friendly and requires a minimal amount of power and compressed air to operate. We have sold over 1,200 systems operating in more than thirty different countries. The system is able to process most fibers from .9 denier to 25 denier at varying staple lengths and fiber crimp levels. The expected production rate will change based on fiber spec.
Affordable mid level system
Produce up to 600 pounds per hour
Optional 4' to 6' reserve conveyor holds as much as 80 pounds of raw fiber
Fiber Feeder for pre opening or leveling of raw fiber
Variable speed fiber feed rolls
Single high production Filling Fan
The CCS ProLoft 600 is a 24" wide machine made up of several components: This includes a Reserve Conveyor which allows the operator to insert a large amount of fiber into the system thus reducing the labor requirement. The fiber is automatically moved from the Reserve Conveyor into the Fiber Feeder where it is pre opened with a lift apron and kick roller, the fiber is then metered into the Reserve Chute above the Fine Opener. The fiber flow is now controlled by the operator. Each time the operator steps on the foot switch, the shut off valve opens and the fiber is fed into the Fine Opener. Once the fiber passes through the Fine Opener, it is blown by the Filling Fan into the finish product.
The ProLoft 600 consists of a vertical high speed Fine Opener, fiber Filling Fans and electrical control. This system includes a reserve feed hopper that allows the operator to insert a large amount of raw material into the Fiber Feed Hopper thus reducing the labor requirement. Once the Fiber Feed Hopper is full of raw material, the operator slides a tick on the Filling Nozzle and steps on the foot switch. The timer on the electrical control panel will establish the amount of fiber being inserted in the tick.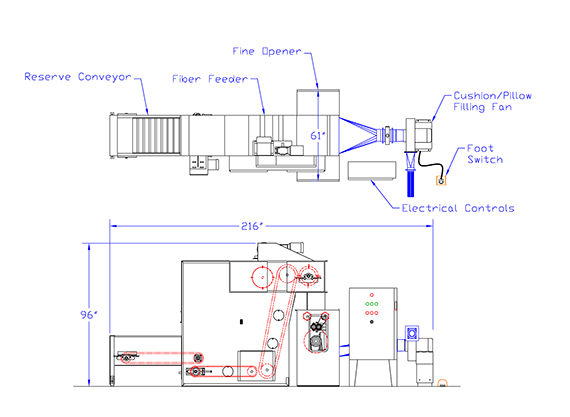 CCS ProLoft Presentation