High efficiency. Up to 1000 lbs. per hour
The ProLoft 1000 is a popular more productive Pillow and Cushion filling system. This system is capable of providing fully open fiber at the rate of approximately 600 to 1000 pounds per hour.
The CCS ProLoft 1000 is a 42" wide machine made up of several components, this includes a Reserve Conveyor which allows the operator to insert a large amount of fiber into the system thus reducing the labor requirement. The fiber is automatically moved from the Reserve Conveyor into the Fiber Feeder where it is pre opened with a lift apron and kick roller, the fiber is then metered into the Reserve Chute above the Fine Opener. The fiber flow is now controlled by the operator. Each time the operator steps on the foot switch, the shut off valve opens and the fiber is fed into the Fine Opener. Once the fiber passes through the Fine Opener, it is blown by the Filling Fan into the finish product.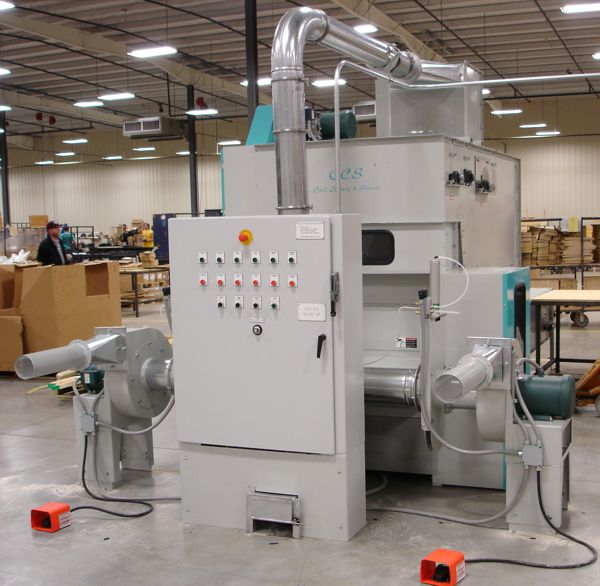 The ProLoft 1000 consists of a horizontal or vertical high speed opener, fiber stuffing fans and electrical control. This system includes a reserve feed hopper that allows the operator to insert a large amount of raw material into the feed hopper thus reducing the labor requirement. Once the feed hopper is full of raw material, the operator slides a tick on the stuffing nozzle and steps on the foot switch. The timer on the electrical control panel will establish the amount of fiber being inserted in the tick.
Electrical Pre Wire:
The CCS ProLoft 1000 is electrically prewired in our factory by a licensed electrician and test run with the customers fiber and cushion shell prior to shipment. All the wires are color coded to match the plant voltage and all the wire are machined labeled at each end.
Safety, Maintenance & Owners Manual:
The CCS ProLoft 1000 includes an indepth Safety, Maintenance and Owners Manual which includes the table of contents, safety instructions, start up procedure, operating conditions, shut down procedure, general conditions, maintenance schedule, detailed mechanical drawings, electrical diagram and replacement parts list.
Card Clothing & Services, Inc. (CCS) manufactures several different pillow filling systems. The video shows small decorative pillows being filled with polyester fiber. The baled fiber is loaded in the back of the system. The operator steps on the foot switch and the fiber is blown into the pillow shell. The system opens the polyester fiber to 98% depending on the fiber quality.
Safety Warning: Lock out and tag out the electrical control supply to the system before performing maintenance and cleaning. Refer to the Safety, Maintenance & Safety Manual before operating or maintaining the system. Contact us with any questions you have prior to performing the task.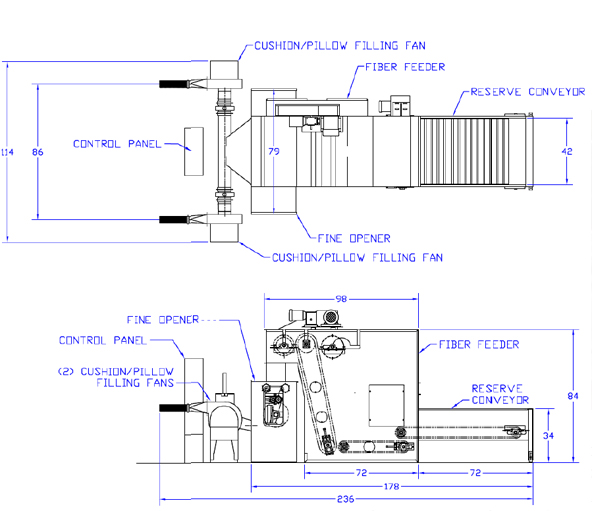 ProLoft 1000 Brochure

CCS ProLoft Presentation