ProLoft 300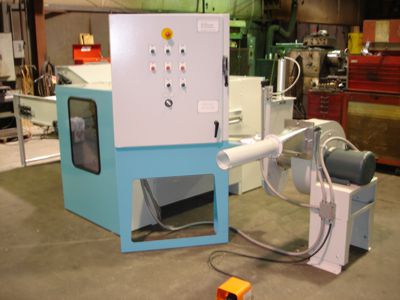 The CCS ProLoft 300 is our most affordable entry level system, the system is able to produce up to 300 pounds per hour at 100% run time. The system is designed to open polyester fiber and fill different types of furniture and bedding products. This includes, but is not limited to, bed pillows, decorative pillows, bed rests, neck rolls, pet beds, furniture backs and cushions, outdoor furniture and much more. The system is compact, user friendly and requires a minimal amount of power and compressed air to operate. We have sold over 1,200 systems operating in more than thirty different countries. The system is able to process most fibers from .9 denier to 25 denier at varying staple lengths and fiber crimp levels. The expected production rate will change based on fiber spec.
The CCS ProLoft 300 is a 42" wide machine made up of several components. This includes a Reserve Compression Conveyor which allows the operator to place fiber on the conveyor belt and then operate the system. The fiber is automatically moved from the Reserve Compression Conveyor into the Fine Opener. The fiber flow is controlled by the operator. Each time the operator steps on the foot switch, the shut off valve opens and the fiber is fed into the Fine Opener. Once the fiber passes through the Fine Opener, it is blown by the Filling Fan into the finish product.
Electrical Pre Wire: The CCS ProLoft 300 is electrically prewired in our factory by a licensed electrician and test run with the customer's fiber and cushion shell prior to shipment. All the wires are color coded to match the plant voltage and all the wires are machined labeled at each end.
Safety, Operation & Maintenance Manual: The CCS ProLoft 300 includes an indepth Safety, Operation and Maintenance Owners Manual which includes the table of contents, safety instructions, warranty description, start up procedure, operating conditions, shut down procedure, general running conditions, maintenance schedule, detailed mechanical drawings, electrical diagram and replacement parts list.
Safety Warning: Lock out and tag out the electrical control supply to the system before performing maintenance and cleaning. Refer to the Safety, Operational and Maintenance Manual and the OSHA link on our safety page before operating or maintaining the system.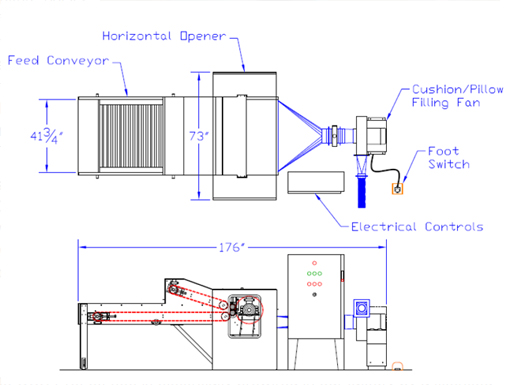 ProLoft 300 Brochure

CCS ProLoft Presentation