FX Series Dust Collector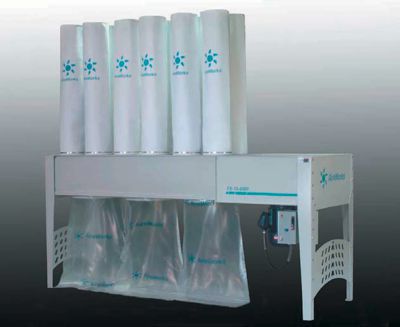 The FX Series Dust Collector is AireWorks premium dust collection system. The FX Series is designed with our latest technology, our proprietary interchangeable design approach.
AireWorks design technology provides our clients with dust collection solutions that are customized to meet their specific application requirements, are designed to be expandable as our client's businesses evolve, and allow our clients to enjoy the benefits of unique premium solutions at reasonable costs.
The AireWorks FX Series dust collector is engineered for compatibility within modern work cell manufacturing environments and conserves energy by providing for variable dust extraction levels to meet "real-time" process requirements. The FX Series incorporates standard components that can be configured for optimal space utilization, an important feature for shop environments with limited floor space or minimal ceiling height.
FEATURES
Premium Dust Collection System
Totally Self-Contained
Modular Design
Low Noise
Dynamically Balanced Fan
TEFC Motor
Top Angle Flange Inlet
Rugged Steel Construction
Premium Corrosion Resistant Paint
Precision Laser-Cut Components
Multiple Discharge Options
Flexible Physical Configuration
AireWorks Warranty
Operator's Manual

AireWorks FX Brochure